(In English, below)
Defnydd yr iaith Gymraeg o fewn y gyfundrefn gyfreithiol
I ddathlu Dydd Gŵyl Dewi, bydd Cymdeithas Cyfreithwyr Gogledd Cymru a Chaer yn cynnal digwyddiad arbennig ar 'Ddefnydd yr iaith Gymraeg o fewn y gyfundrefn gyfreithiol'. Trefnir y digwyddiad mewn cydweithrediad a Legal News Wales.
Bu i'r Ddeddf Iaith Gymraeg 1993 fod yn allweddol i sicrhau mynediad at gyfiawnder i unigolion drwy gyfrwng eu mamiaith, drwy ddiogelu bod pawb sy'n dymuno defnyddio'r Gymraeg yng Nghymru yn cael eu trin yn yr un modd â'r sawl sy'n dymuno defnyddio'r Saesneg.  O ganlyniad i'r Ddeddf, mae gwasanaethau cyfreithiol cyfrwng Cymraeg ar gael yn ddiofyn. Ers pasiwyd y Ddeddf, mae datblygiadau cadarnhaol wedi cymryd lle ar draws y gyfundrefn gyfreithiol i wella ansawdd ac argaeledd gwasanaethau cyfreithiol cyfrwng Cymraeg.
Bwriad y digwyddiad yw gwerthuso defnydd yr iaith Gymraeg o fewn y gyfundrefn gyfreithiol heddiw a chwestiynu a yw'r ddarpariaeth gwasanaethau Cymraeg presennol yn ddigonol i ddiwallu anghenion siaradwyr Cymraeg yr unfed ganrif ar hugain.
Bydd y panelwyr yn trafod eu safbwynt ar y materion canlynol:
Profiadau o ddefnydd o'r iaith Gymraeg yn gyfundrefn gyfreithiol yn rhinwedd eu swydd;
Beth a ellir ei wneud i gynyddu'r defnydd o'r iaith;
Beth yw'r prif anawsterau sy'n atal defnydd o'r iaith gael ei gynyddu;
Digonolrwydd darpariaeth ar gyfer defnyddio'r iaith o fewn swyddi'r panelwyr;
Dyfodol yr iaith o fewn y gyfundrefn gyfreithiol
Panelwyr:
Ei Anrhydedd Barnwr Niclas Parry
Mr Aled Roberts, Comisiynydd y Gymraeg
Dr Catrin Fflur Huws, Uwch Ddarlithydd yn y Gyfraith ym Mhrifysgol Aberystwyth
Ms Awen Edwards, Cynorthwyydd Ymchwil, Tîm Cyfraith Gyhoeddus a'r Gyfraith yng Nghymru yng Nghomisiwn y Gyfraith
Mr Osian Roberts, Partner, Cyfreithwyr Guthrie Jones & Jones
Cadeirydd:
Dr Emma Roberts, Uwch Ddarlithydd yn y Gyfraith ym Mhrifysgol Caer
Cynhelir y digwyddiad hwn drwy gyfrwng y Gymraeg ar blatfform Zoom, gyda'r opsiwn i glywed cyfieithiad ar y pryd.
Mae cofrestru yn hanfodol.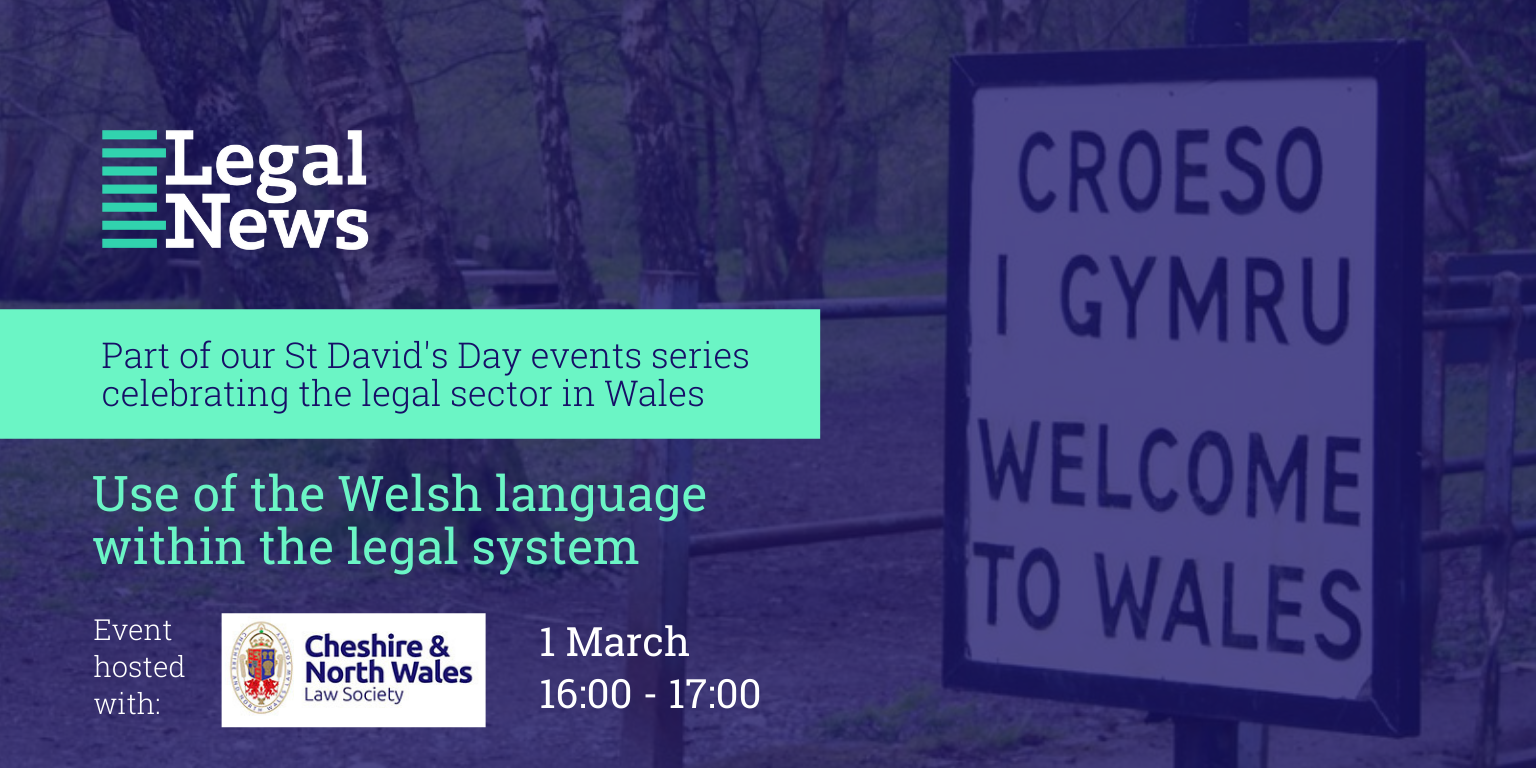 To celebrate St. David's Day, Cheshire & North Wales Law Society will host a special event to explore 'The use of the Welsh language within the legal system'. This event is organised in co-operation with Legal News Wales.
The Welsh Language Act 1993 has been key in safeguarding access to justice to individuals in their mother-tongue, ensuring that those in Wales who wish to use Welsh within the legal system are treated in the same way as those who wish to use English. As a result of the Act, Welsh-medium legal services are readily-available by default. Since the passing of the Act, positive change has been witnessed across the legal system to improve the quality and availability of Welsh language legal services.
This event seeks to evaluate the use made of the Welsh language in the legal system today and questions whether enough is being done to meet the expectations of 21st Century Welsh speakers.
Panel members will discuss their perspectives on the following matters:
Their lived experiences of the use of the Welsh language within the legal system;
What can be done to enhance the use of the Welsh language across the legal system;
What are the main difficulties that currently prevent enhanced use of the language;
Adequacy of the provision to assist and encourage Welsh-language use within the legal system;
The future of Welsh language use within the legal system.
Panelists:
His Honour Judge Niclas Parry
Mr Aled Roberts, Welsh Language Commissioner
Dr Catrin Fflur Huws,  Senior Lecturer in Law at Aberystwyth University
Ms Awen Edwards, Research Assistant, Public Law and Law in Wales Team at the Law Commission
Mr Osian Roberts, Partner, Guthrie Jones & Jones Solicitors
Chair:
Dr Emma Roberts, Senior Lecturer in Law at the University of Chester
This event will be delivered in Welsh, with a live English translation option, and delivered on our Zoom webinar platform (useful information below).
Booking is essential.

Legal News Wales St David's Day Celebration 2021
This event is being hosted as part of our two-day St David's Day 2021 celebration of the legal sector in Wales  – a series of free, online events which take place on Friday 26 February and Monday 1 March. Click here to view all our events and book your place.
Our special St David's Day events focus on business resilience, sustainability and diversity in the legal profession in Wales, building on the Justice Commission for Wales 2020 report recommendations to ensure Wales has a thriving and sustained legal sector to cater for the needs of the communities they serve.
Opening event – Celebrating the legal sector in Wales
The Counsel General for Wales, President of The Law Society, David Greene and Vice-Chair of the Law Society Wales Committee, Mark Davies, will join our Editor Emma Waddingham for the opening event on Friday 26 February, from 9:30am.
Useful information
We will send you the password within 24 hours of the event. You will receive the event link upon booking but please look out for an email from emma@legalnewswales.com containing the password.
To join the session via the Zoom video conferencing platform, you just need to click on the link we send you around 3 minutes before the session time. You can do this from a mobile phone, tablet, laptop or desktop, but the best functionality and quality of connection is achieved with a laptop or desktop computer, I would advise only using a mobile as a last resort. Zoom is free to use but if you are using it on a mobile phone without connection to wireless internet your mobile service provider may charge you.
When you click on the link you will need to accept pop ups and insert your name and to choose audio by computer if given that choice. When entering your name please enter the name by which you would like us to call you during the session.
Please Note:
When you join the session you will find yourself placed in a waiting room. Please don't panic, we'll let you in at the publicised event time.
You will then find yourself on mute. Please remain muted until the host opens the Q&A session. This is to ensure the recording isn't disrupted. Thank you!
We record all sessions if suitable for sharing – so that as many people as possible can view the event afterwards. You can turn your camera off if you'd prefer to do so. We aim to crop any Q&A sessions out to retain anonymity and confidentiality – or, if appropriate to do so, upload the audio version of the Q&A only.
It's very quick and easy to join the session and when you do, your camera image will automatically show to myself and the rest of the group and we will be able to hear what you say and any sounds around you. You should see and hear us too. You may communicate by typing things to the whole group and by speaking and you can click on prompts to invite us to go more quickly or more slowly.
If you have any technical difficulties on the day, please text the Editor, Emma Waddingham, on 07769203856.