In our latest episode of the Legal Sector Resilience Podcast, Emma Waddingham, Editor, Legal News Wales, is joined by Ella Watts, award-winning founder of the Ladies of Law network.
Expect to hear about the challenges of making career-changing decisions, why networks are so important and how you can reach out for support when you're having a career wobble – or just want to check in that you're on the right path in law.
This episode is ideal for junior or aspiring lawyers and women in law as well as employers and those interested in widening their network.
Ladies of Law aims to empower, support, empower and celebrate all women in law, at all stages of their career. It's nationwide success earned Ella an Inspirational Women in Law Award in 2022. Shortly after, Ella's career shifted from working within the law, to supporting those who work in the sector, and she is now a rising star at legal recruitment specialists TSR Legal.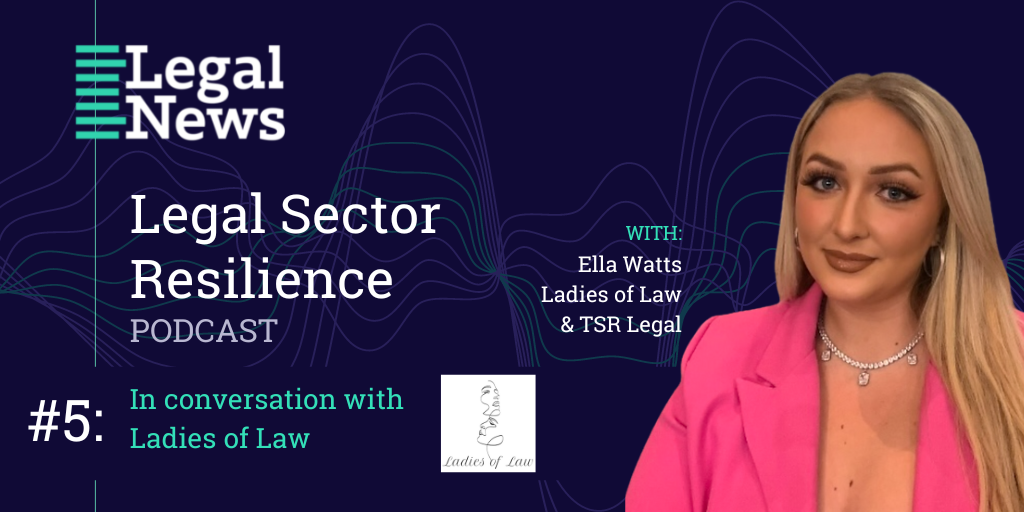 To stream the episode, scroll down or click on the feed to stream from your favourite podcast player here. Don't forget to favourite / follow our podcast channel to hear more!
Our greatest thanks to Ella Watts, Founder of Ladies of Law & Consultant at TSR Legal, our exclusive legal recruitment partner, for joining me for this podcast.
Ladies of Law
Ladies of Law was founded in November 2021 by Ella Watts, with the aim of creating an empowering legal platform on social media for women in law. After months of research, it was apparent how equality between the genders are still lacking in the legal field and how women have had to fight harder over the decades for the same opportunities and respect in the world of law.
Ladies of Law aims to empower, support, guide and most importantly celebrate all women in law, no matter at what stage they are at. If thinking about studying law or well into their career, Ladies of Law advocates for empowerment and awareness of the impact that women can bring to the legal field, as well as supporting women to have the confidence to succeed in law, in addition to highlighting the different routes that can be taken into law through its podcast available on Spotify.
The legal platform is also a networking platform, connecting women from all stages of careers and walks of life to interact and support each other through social media, networking events and in person Ladies of Law Lunches which will be nationwide.
Since its launch in 2021, Ladies of Law now have amassed over 7k followers across social media, with soon to be 90 voluntary brand Ambassadors and a small team, working alongside their own careers to progress the platform.
There are lots of exciting things to come in 2023 for Ladies of Law so you can follow their journey via their website.
TSR Legal: empowering you to progress with confidence
If you're looking for or considering a change of role in 2023, please get in touch with our specialist legal recruitment partner TSR Legal who will be happy to talk through your needs, wishes and the opportunities available to you in confidence. Click here for more.
More podcasts
To view and stream 'The F*Word' – a podcast series demystifying and exploring Finance, with RBC Brewin Dolphin, click here.
Join the conversation
For more information on joining our podcast, please contact the Editor, Emma Waddingham here.