As 2022 draws to a close, I invited Karen Jones, Director of our exclusive legal recruitment partner TSR Legal, to join me for a chat in the third episode of our Legal Sector Resilience podcast.
I asked Karen how law firms in Wales have approached recruitment this year – whether the expected hybrid working explosion really took off, the different opportunities and approaches between the Welsh and English legal sectors (and why Wales is a victim of its own success), what lawyers want and why they're moving and what law firms are able to, and should offer.
We finish on some important tips for lawyers and legal practices to consider over the winter break as we head into the new year.
Recruitment, Retention & the Welsh Legal Sector in 2022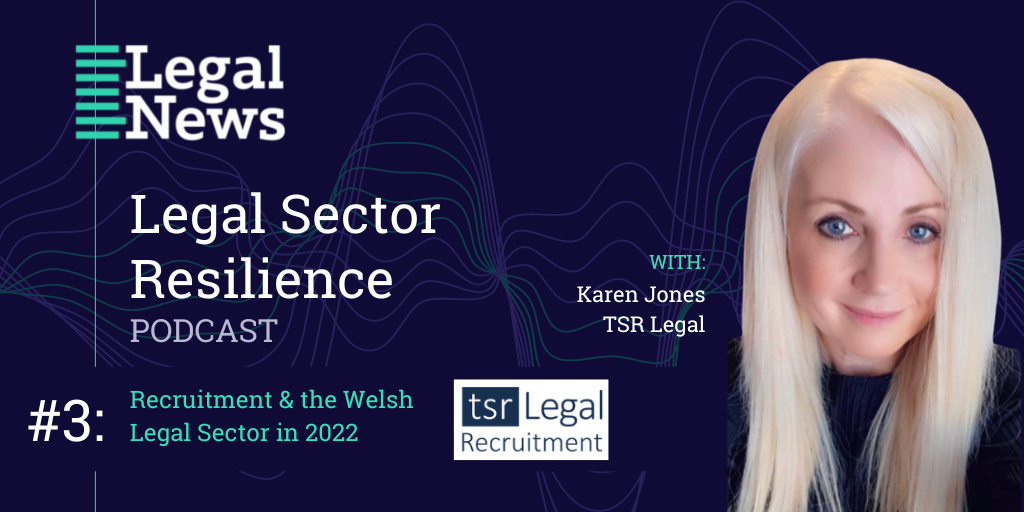 To stream episode 3, scroll down or click on the feed to stream from your favourite podcast player here. Don't forget to favourite / follow our podcast channel to hear more!
Our greatest thanks to Karen Jones, Director of TSR Legal, our exclusive legal recruitment partner for joining me for this podcast.
TSR Legal: empowering you to progress with confidence
If you're looking for or considering a change of role in 2023, please get in touch with our specialist legal recruitment partner TSR Legal who will be happy to talk through your needs, wishes and the opportunities available to you in confidence. Click here for more.
More podcasts
To view and stream our Legal Sector Resilience Podcasts, click here.
To view and stream 'The F*Word' – a podcast series demystifying and exploring Finance, with RBC Brewin Dolphin, click here.
Join the conversation
For more information on joining our podcast, please contact the Editor, Emma Waddingham here.