Legal News Wales recently hosted a celebration of celebrate Pro Bono Week 2020 and the efforts of all those in the private legal and third sectors offering free legal advice to our local communities.
The initiatives, experience and Pro Bono opportunities highlighted in the online event were impressive – as was the number of attendees on the night which excelled some of the national UK Pro Bono Week 2020 events.
Our event, hosted in collaboration with AltraLaw, LawWorks Cymru and The Law Society Wales, marked Pro Bono achievements in Wales by the legal, academic and third sectors sector. Importantly, it also showcased the latest opportunities for lawyers to get involved in life-changing free legal advice during the pandemic.
As free legal advice clinics have started to reopen and offer support in new ways to communities in Wales – and with some new clinics opening – we thought Pro Bono Week 2020 was an excellent opportunity to showcase how lawyers can get involved – even if they only have the bare minimum of time to give to Pro Bono – and explain the benefits of getting involved, at any stage of your legal career. More on Pro Bono Week 2020 can be found at the foot of this page.
The event itself was a whistle-stop tour of the remarkable Pro Bono initiatives across Wales and how each clinic has adapted to the challenges of the pandemic and remote working. Many have re-opened and are providing support to communities and individuals in need, in new, safe ways.
Our four lawyers gave engaging and diverse accounts of the benefits of Pro Bono both personally and professionally, as they shared their experiences in the first part of the event.
Nathan Vidini, Founder of AltraLaw, the UK's first not-for-profit law firm, says it 'was both encouraging and inspiring' to hear from a wide range of Pro-Bono centres across Wales, adding:
"We should be very proud in Wales that we have a strong and growing community of ethical lawyers, at all stages of their career, who want to 'give-back' and help those most vulnerable and in need in society.

"May we continue to be Pro-Bono pioneers in Wales and always punch well above our weight, compared to the rest of the UK. The challenges ahead, especially in the current climate, are great.
"However," he says: "The energy, resolve and new innovations heard at this event should be an encouragement to us all to continue to fight the good-fight."
Catch up on the event
We've shared the coverage of our event across two recordings:
Part 1:
A keynote from the Acting Regional Employment Judge for Wales and 'My Pro Bono journey in Wales: Hear from four lawyers, who each have significant experience in Pro Bono work but with varied professional backgrounds and at different stages of their career. They share how Pro Bono has enhanced and motivated them, both professionally and personally, and why all lawyers should consider this – at any stage of their career.
Part 1 speakers:
Welcome from Emma Waddingham, Editor of Legal News Wales
Nathan Vidini, Founder of AltraLaw introduces our Keynote Speaker: Acting Regional Employment Judge, Sian Davies
My Pro Bono Journey in Wales: 
Part 1 event catch up:
Part 2:
How legal advice clinics have fared during the pandemic and opportunities for all lawyers: A panel of Welsh legal advice clinics, charities and LawWorks Cymru outline the Pro Bono initiatives and opportunities available to help you on your – or your colleagues' – Pro Bono journey. This is especially important as there are new and perhaps less known clinics working hard to support local communities in Wales, and they need help.
You can find contact details for each clinic below!
Not all the opportunities involved clinic support, as LawWorks Cymru will explain. An unexpected outcome of the Coronavirus pandemic is the normalisation of remote support and guidance, which offers time-poor lawyers a way to help, and make a real difference while broadening their experience and skill sets.
Part 2 speakers:
Aberystwyth Uni Veteran's Clinic: Dr Olaoluwa Olusanya, Senior Lecturer in the Department of Law and Criminology (clinic profile) (speaker profile)
Cardiff Lawyers Care: Clive Thomas, Cardiff & District Law Society and Managing Partner, Watkins & Gunn (profile), and The Wallich
North Wales Law Centre Project: Annie Bannister and Crash Wigley
Rhondda Cynon Taff Citizens Advice: Ashley Comley, CEO (clinic profile)
North/Mid Wales Law Clinic: formed of the following partners: Canalfon Cynghori Ynys Mon, Denbigh Citizens Advice & Bangor University Law Faculty
University of South Wales Legal Advice Clinic (clinic profile)
Swansea Law Clinic: Professor Richard Owen, Legal Studies, Swansea University (clinic profile) (speaker profile)
Also mentioned: ELIPS (Employment Litigant in Person Support) (scheme profile)

Alternative opportunities for Pro Bono in the pandemic: Martin Barnes, Chief Executive, LawWorks, joined by his colleagues Fatima Bhula, Pro Bono Connect, and Matt Hunt, Not-for-Profits Programme.
Access to Justice / Reaching Justice Wales grant update from Frances Edwards, Trustee, Access to Justice Foundation (profile)
Part 2 event recording:
Contact details
For those looking to get in touch with the various schemes, centres and clinics mentioned in the event, you can find the lead contact details below:
Veterans Legal Link (VLL)
We are always looking for pro bono advice in the following areas:
Family and children
Crime (legal aid providers only)
Employment
Debt and civil law
Wills and power of attorney (services for the elderly)
Solicitors can get in touch with us directly via help@veteranslegal.co.uk or call VLL's Coordinator on: 07596 094811.
Cardiff Lawyers Care
Please contact Clive Thomas, lead for Cardiff Lawyers Care, via email:
FREE ONLINE TRAINING EVENT to introduce new volunteers to The Wallich: 26 November – details below!
North Wales Law Centre Project
Please contact either Annie Bannister and Crash Wigley for further information on this new initiative – the first Law Centre project for North Wales.
Rhondda Cynon Taff Citizens Advice
Please click here for the clinic profile
If you'd like to contact the team for further information please email bureau@carct.org.uk or call the administration team on 01443 409284 and explain you're interested in supporting the legal advice clinic.
North/Mid Wales Law Clinic
The clinic is formed of the following partners:
Canalfon Cynghori Ynys Mon:
Denbigh Citizens Advice:
Bangor University Law Faculty
To contact the partnership, please email Jackie Blackwell, Canalfon Cynghori Ynys Mon.
University of South Wales Legal Advice Clinic
If you are a current or potential student, or a representative of a legal firm and would like more information about the Legal Advice Clinic, please email uswlac@southwales.ac.uk or telephone 01443 668600.
Swansea University Law Clinic
Students can gain real-life experience by enrolling on any of these twenty credit modules: LAA364 (Semester One) and LAA365 (Semester Two) Miscarriage of Justice Project and LAA366 (Semester One) and LAA367 (Semester Two) Clinical Legal Education.
Also, there will be extra-curricular opportunities from time to time. Look out for announcements here.
For lawyers and law firms that are interested in supporting Swansea Law Clinic, please contact Professor Richard Owen, Legal Studies, Swansea University (profile)
ELIPS (Employment Litigant in Person Support)
ELIPS volunteers provide support in the form of one-off advice on the day of the clinic.  In the current climate, we are not able to offer representation at hearings.
Please email elips@elaweb.org.uk if you are interested in volunteering for the ELIPS online clinic or if you would like more information. More information can also be found here.
Pro Bono Connect
Pro Bono Connect helps barristers and solicitors collaborate on pro bono cases.
We match barristers and solicitors acting pro bono on civil matters for individuals, charities and community groups who cannot afford legal advice or representation.
To join the scheme, please contact Fatima Bhula, Pro bono Connect Executive officer, LawWorks on 07494 205575 or by email: fatima.bhula@lawworks.org.uk
LawWorks Legal Advice for Not-for-Profits Programme
The Not-for-Profits Programme brokers legal advice to small not-for-profit organisations on a wide range of legal issues, to support the continuation and expansion of their services to people in need. The advice is given for free (pro bono).
More information can be found here or by contacting Matt Hunt, Head of Not-for-Profits and Secondary Specialisation: matt.hunt@lawworks.org.uk.
Reaching Justice Wales
Reaching Justice Wales aims to contribute to the availability of legal advice across Wales. The Charity supports voluntary sector agencies which provide free legal advice where there is need, supplementing but not replacing legal aid. It is a wonderful opportunity for the whole profession to demonstrate its continuing commitment to access to justice for all.
For more information and to be kept informed of the latest events and campaigns, please click here.
To find out more about the legal support trust network, please visit the Access to Justice website.
Further information
If you would like any further information or contact details, please email the Editor, Emma Waddingham.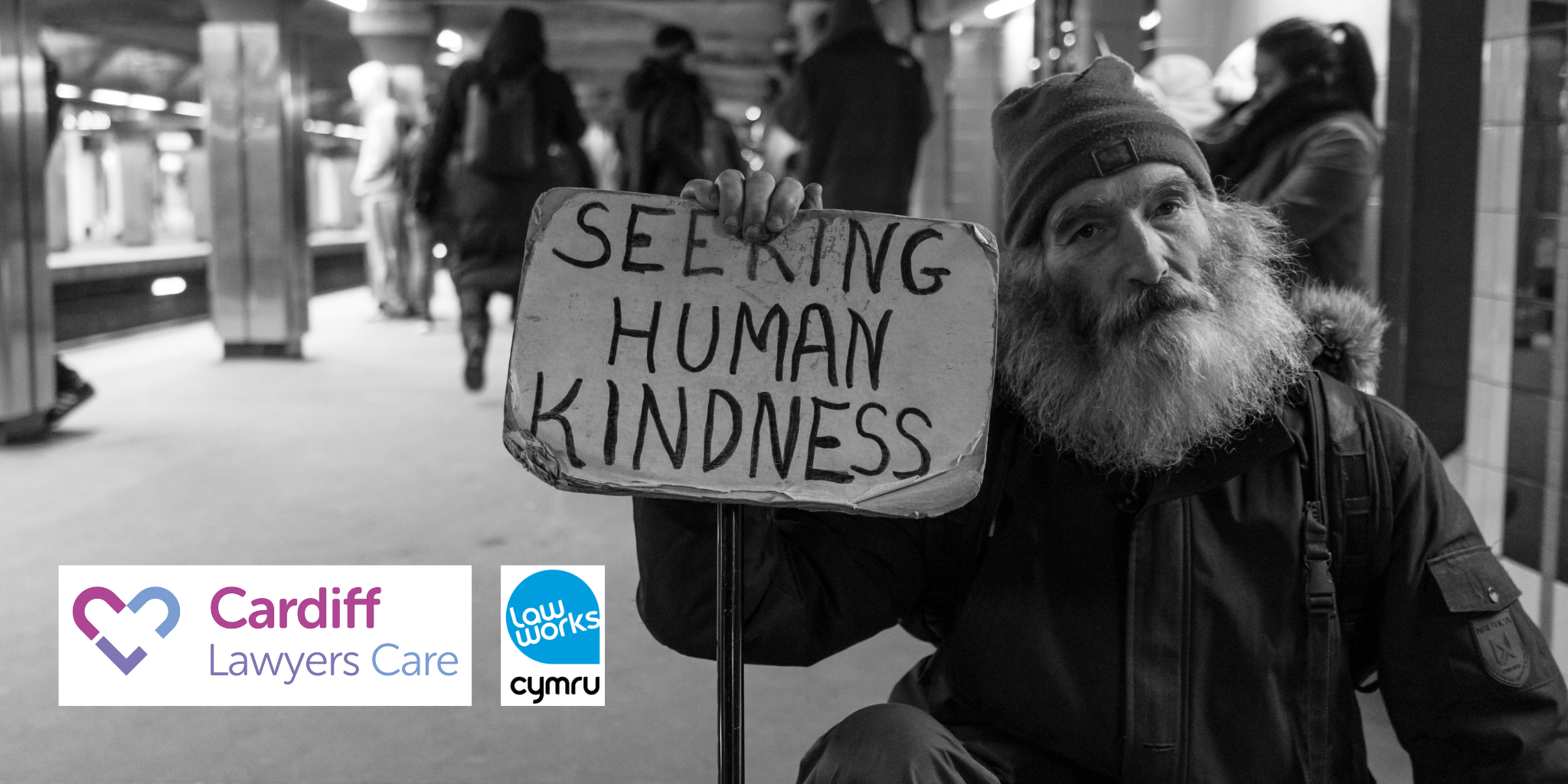 Pro Bono Training Event
Cardiff Lawyers Care: An introduction to working with The Wallich
Thursday 26 November, 11:00-13:30
Cardiff Lawyers Care, The University of South Wales, LawWorks Cymru & The Wallich invite you to join this free, online session that has been designed for volunteers of the 'Cardiff Lawyers Care' legal advice clinic, providing pro bono advice for people experiencing homelessness in Cardiff.
The session will prepare volunteers for working with the Wallich.
Book your free place
For more information and to book, please click here.
About Pro Bono Week 2020
The 19th Pro Bono Week took place this year from 2 to 6 November 2020, recognising and supporting the voluntary contribution made by lawyers across the UK in giving free legal help to those in need. In this year of unprecedented challenges, for both the voluntary and legal sectors, pro bono legal help has never been more important.
National opportunities for volunteers
There are a number of ways that lawyers can volunteer to provide pro bono help. For further information and signposting, please visit the Pro Bono Week volunteers page on its website, here.
Contacts for Welsh Law Clinics / Legal Advice Centres featured in our event