30 Park Place, a Tier 1 barristers' chambers in Wales, has collaborated with our community since we launched in March last year and we are pleased to announce a more formal partnership for the year ahead.
Legal News has hosted a number of essential and unique events with Chambers, attracting many hundreds of delegates to a variety of subjects, including Covid-19 legislation in Wales, the Socio-Economic Duty, a variety of Public Law, Family Law, and ADR webinars, and a Court of Protection conference.
On confirmation of the new partnership, Chambers said: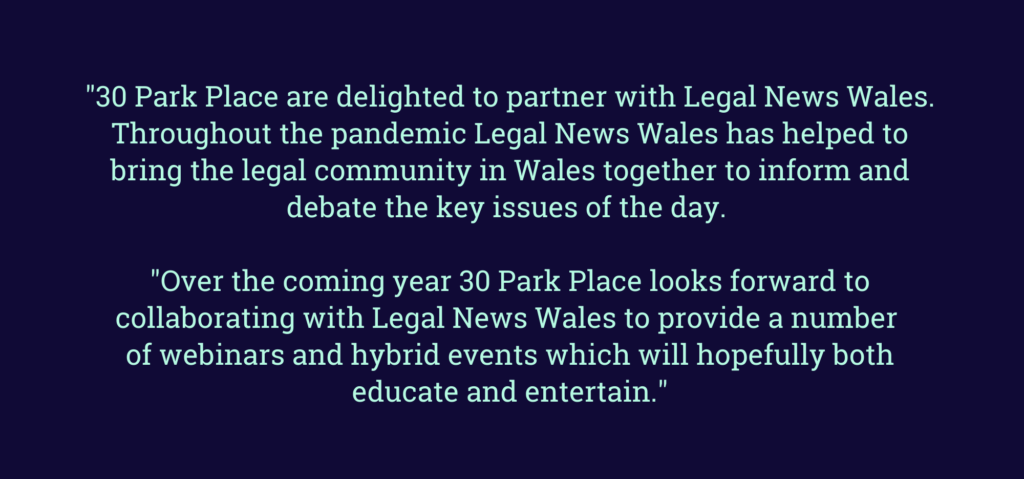 Emma Waddingham, Editor, Legal News Wales added:
"Barristers at 30 Park Place were proactive in joining us for a number of informative and captivating webinars from very the start of the first lockdown, taking part in collaborative events alongside Public Law Wales and in the Legal Wales Conference 2020, Brewin Dolphin's Family Law updates, and with the Equalities and Human Rights Commission Wales. These events will continue throughout 2021 and into next year – with the view of offering hybrid events, webinars and in-person events with Legal News Wales.

"I'm delighted to announce that this eminent Welsh set is the first chambers to partner with Legal News Wales, and we look forward to announcing further collaborative events with 30 Park Place very soon."
30 Park Place joins Brewin Dolphin and Yolk Recruitment as Partners, alongside our editorial community (click to view).
Partnership benefits
If you'd like to learn more about the benefits of an annual Partnership platform with Legal News Wales, contact the Editor here.