The winners of the Cardiff & District Law Society (CDLS) Awards 2023 were announced at the society's annual dinner on Friday 10 November. The awards celebrate legal professionals and practices that have propelled diversity and inclusion in the sector, those who have created invaluable access to justice initiatives to support local communities, and the next generation of lawyers.
This year's CDLS annual dinner, sponsored by ReviewSolicitors, attracted just shy of 300 guests, including law firms, in-house legal teams, barristers' chambers, members of the judiciary in Wales and professional service advisors – ranging from top 100 law firms to start up firms and consultants. The evening was hosted by CDLS President Jenine Abdo (Hutton's Law), who outlined the achievements, focus and support offered by the largest regional law society in Wales to the legal and local communities this year. Master of Ceremonies for the event – CDLS Past President, Clive Thomas (Watkins & Gunn) – led the evening's programme which also included an entertaining speech from Olympian Jamie Baulch.
The awards programme also includes the prestigious Simon Mumford Memorial Award, given to an individual who has made an outstanding contribution to the legal community in Wales.
The 2023 awards were judged by the presidential team and council members of Cardiff & District Law Society, Tom Black, Eversheds Sutherland, Liz Withers, The Solicitors Regulation Authority, and HHJ Muzaffer. The finalists for this year's awards can be found here.
The 2023 CDLS Award winners are:
Equality, Diversity & Inclusion Champion of the Year (sponsored by the SRA):
Harding Evans Solicitors
Nicola Williams, SRA Board member, who presented the award, said:
"We were impressed with the work that Harding Evans has done to develop legal services that are specifically tailored to the needs of those who identify as LGBTQ+ and to think about how to make these services visible and accessible. We were also encouraged by the actions they are taking to provide an inclusive environment for colleagues who identify as LGBTQ+."
Access to Justice (Pro Bono) Initiative of the Year (sponsored by Eversheds Sutherland):
Ukraine Project Cymru (Asylum Justice & Cardiff University)
Tom Black, Partner, Eversheds Sutherland, said:
"This year's winner is a collaboration that we felt is fulfilling a very important social need. It appears to have been mobilised very quickly in response to the war in Ukraine and has benefitted a significant number of people in a short space of time. It is also creating opportunities for student volunteers to gain valuable work experience in the legal sector."
Rising Star of the Year:
Bethan Tapper (Wendy Hopkins Family Law Practice)
HHJ Muzaffer, said:
"We were very impressed by the glowing client feedback Bethan was able to cite as well as her commitment to supporting charity, pro bono and social mobility causes across the community, and evidencing her success in delivering this."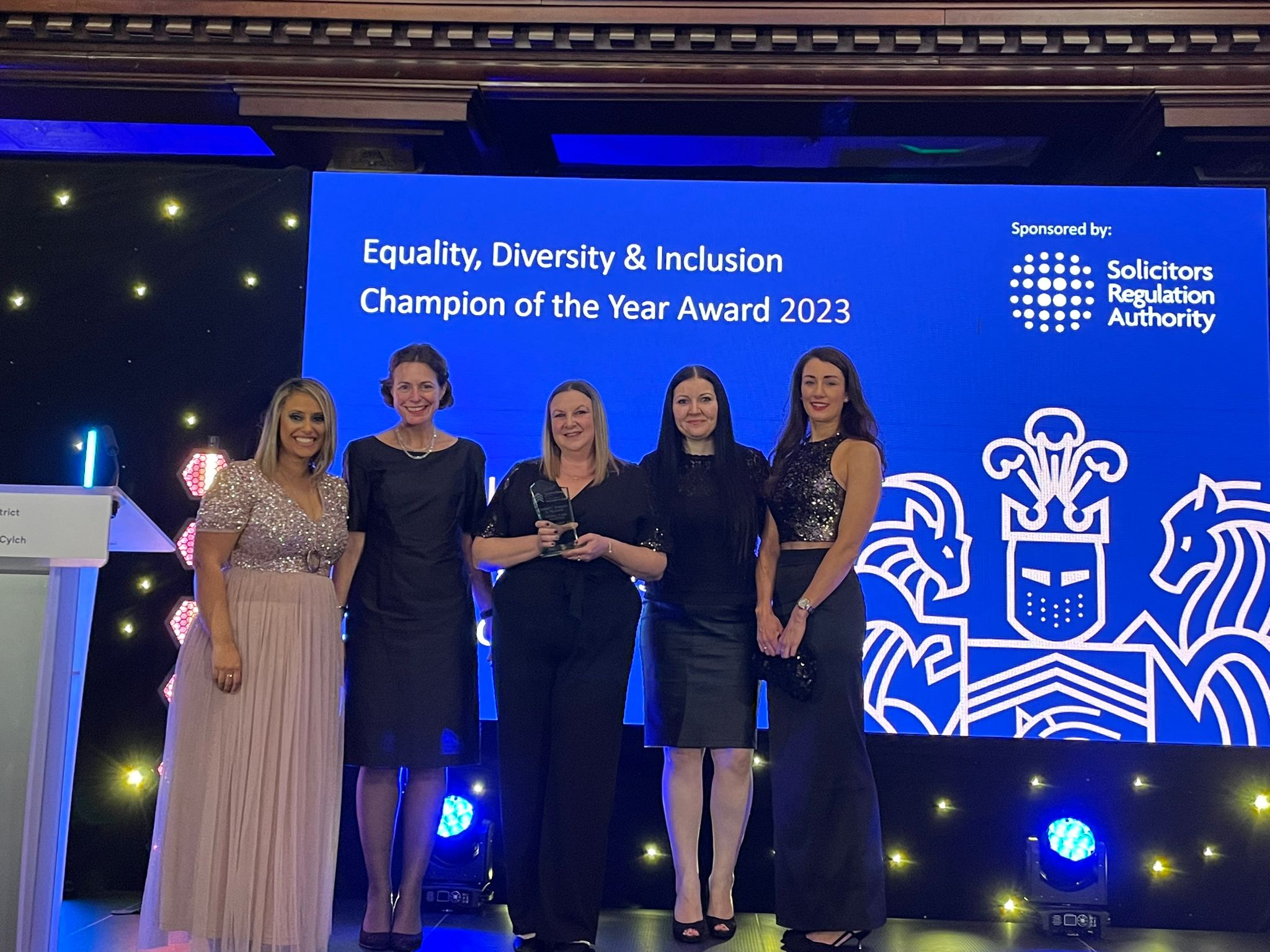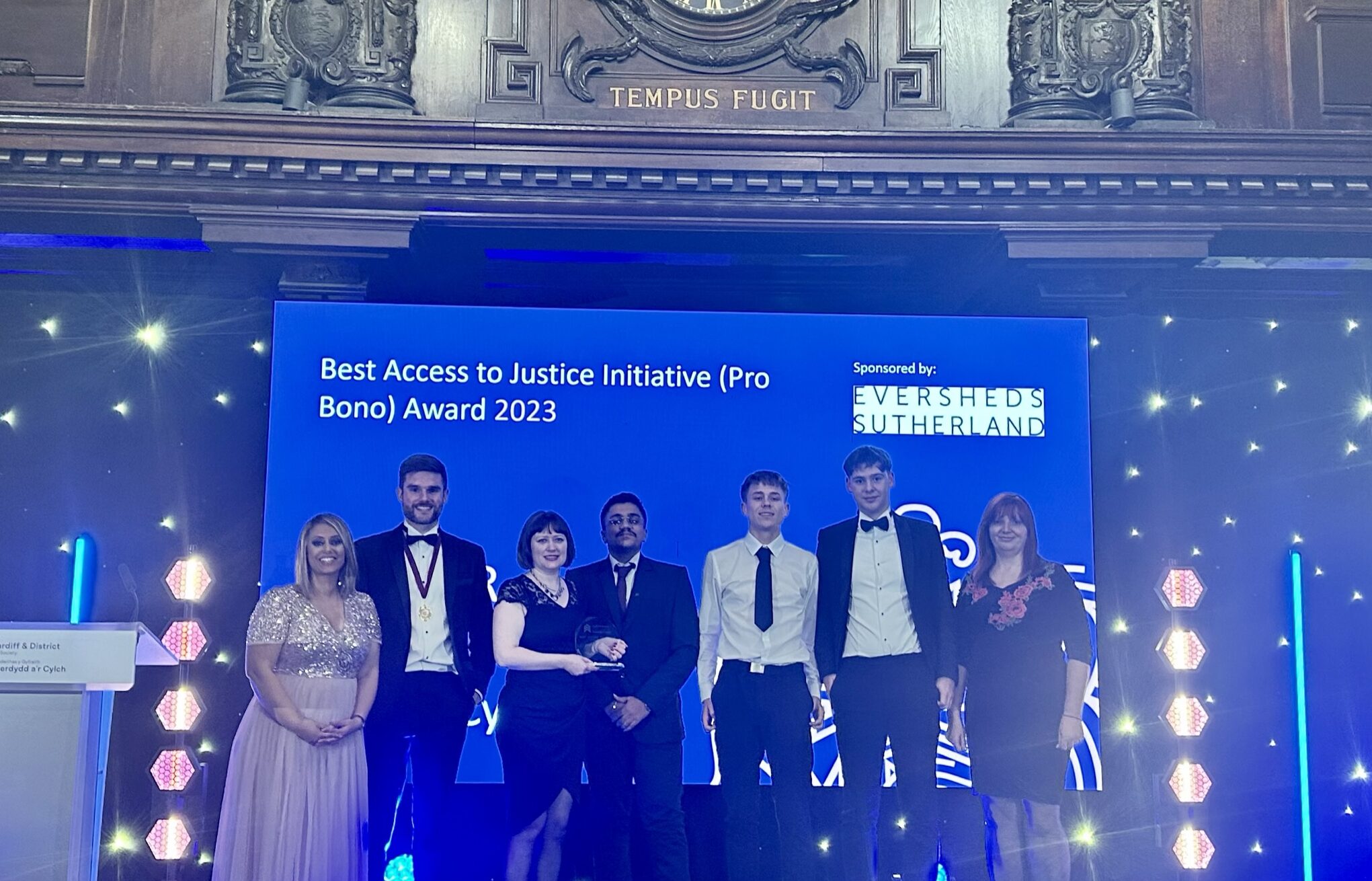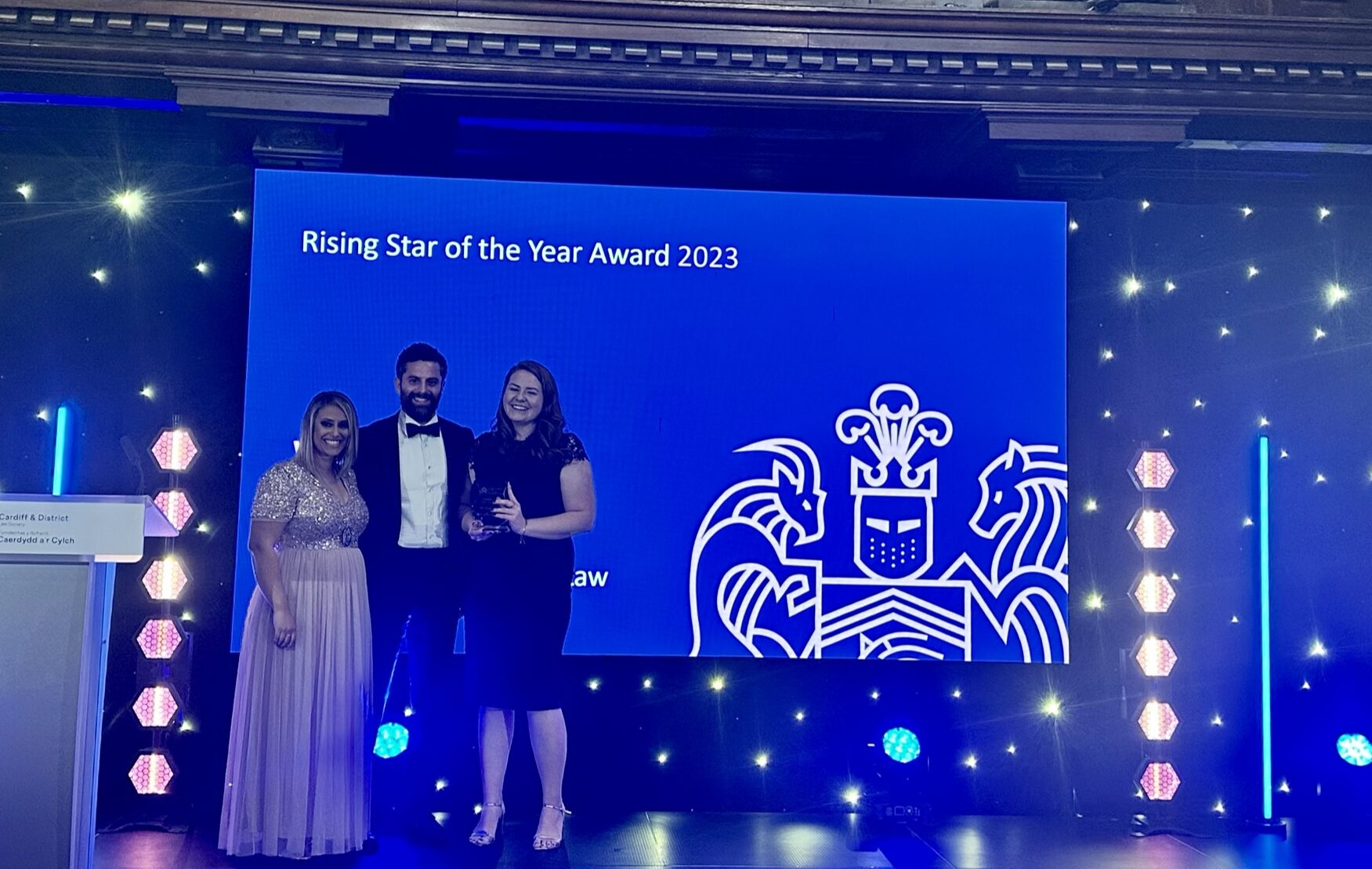 Simon Mumford Memorial Award
The winner of this year's award was given to former Director of the NHS Wales Shared Services Partnership Legal & Risk, and CDLS Past President (2012/-13) Anne-Louise Ferguson MBE.
Anne–Louise's unique blend of legal knowledge, experience and understanding of the NHS and medical practice have made her a leading expert in her field. Her team has quadrupled in size since its creation and she is a much loved and respected manager, director and policy influencer in Wales.
Anne-Louise was awarded an MBE in the New Year's Honours list in 2019. She was awarded the MBE for her services to the NHS, for whom she has worked since 1991 when she joined what was then called 'The Welsh Office'. Having led the team here since 1996, she has overseen the expansion of the service which now aspires to be a world-class in house legal team to the NHS in Wales.
In 2020, after 25 years in the post, Anne–Louise Ferguson retired as the Director of NWSSP Legal and Risk Services and Welsh Risk Pool Services.
Anne–Louise was committed to the personal development and wellbeing of everyone at L&RS as well as the larger organisation, having chaired the NWSSP Employee Wellbeing Strategy Group from its conception. She has always gone the extra mile both in and out of work. She is a past President of Cardiff and District Law Society (2012-2013) and is Governor of a local Welsh language school, despite being a beginner at speaking Welsh. In the 2019 New Year Honours list she was appointed a Member of the British Empire, for her services to the NHS. At 3am the morning of the day she was to receive her medal she was woken by an emergency work call which led to her getting a High Court Judge out of bed to make a suitable treatment order. In October she went on to be Highly Commended in the In-House Solicitor of the Year category at The Law Society Excellence Awards.
On retiring from her role as Director of Welsh Risk Pool Services Anne–Louise said she was proud of the progress that has been made by the small team in improving patient safety and learning and initiating successful projects to benefit patients in Wales.
Her proper 'pipe and slippers' retirement didn't start until 1st January 2022. Finding doing nothing was much worse than working, she trained as a Samaritans listening volunteer, took up drawing and pottery and accepted an invitation to become a special advisor to Swansea Bay University Health Board.
Since March 2023 she has been appointed formally as Independent legal member of the Board, a role which in part requires the speedy perusal of hundreds of papers and plenty of long meetings.
In her speech on the night, Anne-Louise said she is incredibly proud and immensely honoured to have been given the memorial award, of her time with the NWSSP Legal & Risk team and of Cardiff & District Law Society. She added that "the slippers can wait!"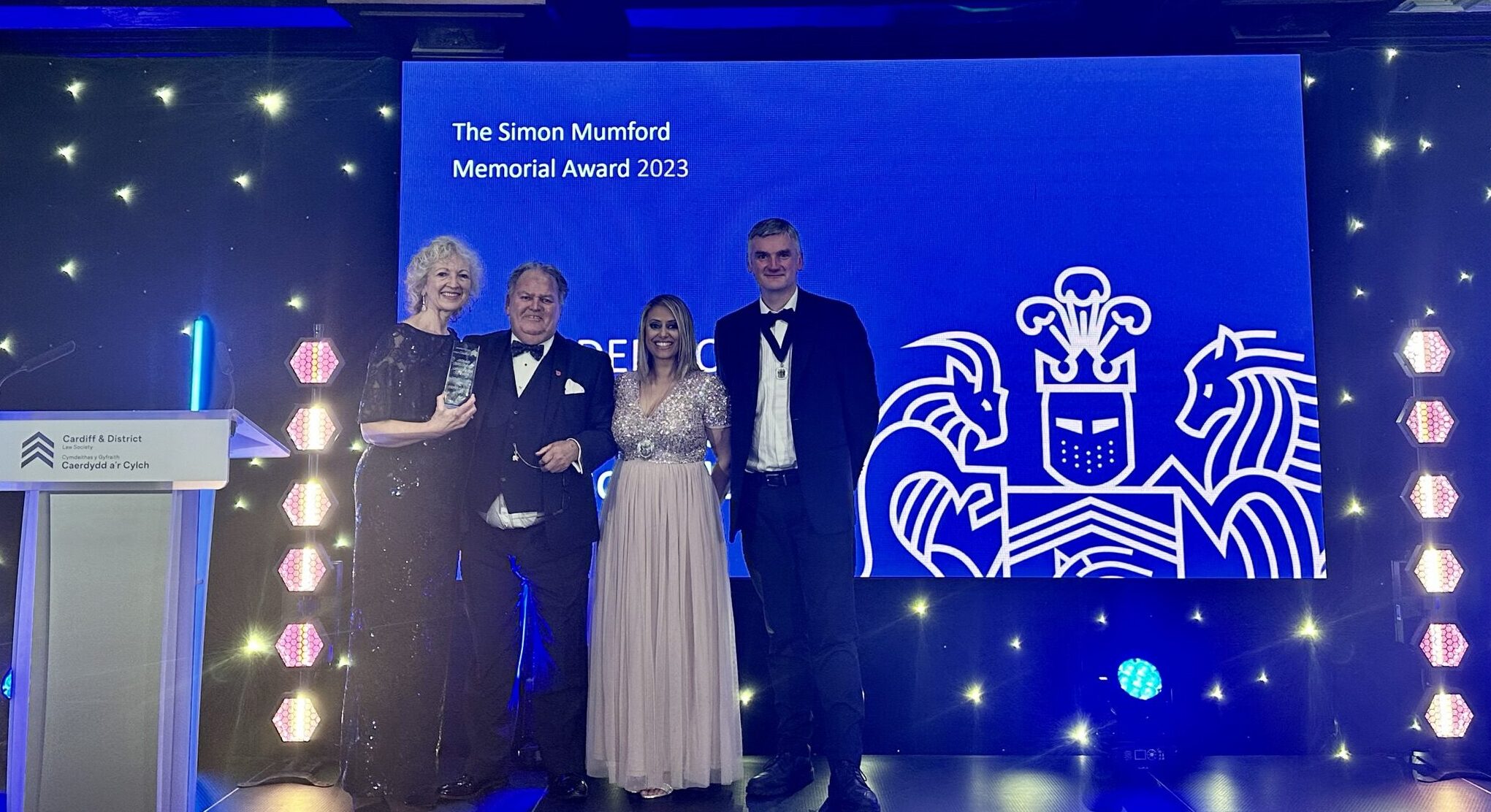 Celebrating a year of diversity, inclusion, influence and collaborations
In her president's address at the CDLS Annual Dinner, sponsored by ReviewSolicitors, Jenine Abdo outlined some of the most significant successes of CDLS, the reach and impact of the council's work and its influence. She said:
"I first became involved with the Society in 2019 following an invitation from the then outgoing President Clive Thomas and incoming President Steve Thomas to attend a roundtable to discuss EDI with the Law Society of England and Wales. Following the stark statistics that only 16% of legal practitioners within England and Wales identified as of an ethnic background despite much greater numbers undertaking degrees. Together with the current JVP Trish D'Souza, we were asked to help set up what was then known as the BAME network.

"This network which has since been predominately led by Trish has been so well received that other local law societies have used the format and set up as a precedent reflecting that the work to date has been pioneering. Soon after the set up, I became the EDI officer for our society and since then have initiated the start of various subcommittees having identified Chairs who are not only assets to their respective legal fields and Firms but also to our Society."
These subcommittees include:
Mental Health and Wellbeing
Disability Network
LGBTQ+
And the soon to be launched Social Mobility subcommittee which aims to involve members of the judiciary in Wales and universities.
As well as the EDI subcommittees, there has been a surge of growth and interest in existing CDLS subcommittees that support legal practices:
Law Tech
Regulatory
Pro Bono
She added:
"I am so proud to have been a part of and/or started the first of many events during my Presidential terms. These events continued to be online and also in person events to ensure that members and also non-members were able to take part and attend where possible which has showed great attendance this year with many events and collaborations."
These have included:
The first EDI showcase that took place at the Law Society in Wales. This then led the President to take part in a case study interview for Business Wales on EDI within the legal sector in Wales (view here)
The launch of the LGBTQ+ subcommittee, chaired by Marc Jones of Eversheds Sutherland
Unconscious Bias training with Show Racism the Red Card
Two International Women's Day events, and the first International Men's Day event – which focused on men's mental health and wellbeing within the profession.
Due to Cardiff Family Courts being one of three Courts this year to pilot the Transparency Orders, it was imperative to arm practitioners with the reality of the working implementation of prospective reporting within the family law courts. This led to the biggest training and information event in April 2023 run by CDLS, in partnership with Resolution and Legal News Wales.
A Hate Crime Law training event took place with author and Barrister Ramya Nagesh
Collaborations and relations began with South Wales Resolution which led to a series of family legal training seminars as well as a successful quiz night which raised money for the Cardiff Family contact centre.
A Regulatory event on Sexual Misconduct in the work place with the SRA and Legal News Wales
Climate Risk & Change event hosted by CDLS sponsors Groundsure
The first Summer Picnic in the Park and the Children's Christmas Party offered informal and popular social events for members
Ethnicity Network Coffee mornings, which led to the creation of a reverse mentoring scheme which also has been welcomed by both junior and senior practitioners alike – and has influenced similar networks across other regional law societies in England and Wales.
The Society has provided responses to many consultations throughout the year and has further supported the lobbying of government regarding Criminal Legal Aid.
Clare Good, CDLS Vice President (Capital Law), joined Jenine in sharing tribute to Peter Davies (JCP Solicitors) on the night. Clare trained under Peter's supervision and gave a heart-warming and personal account of the man who was loyal and generous with his time. Peter was given the Simon Mumford Memorial Award in 2022, but passed away just weeks after.
Jenine thanked her colleagues on the CDLS Council, and subcommittee members for their support in her year, which also saw Jenine give birth to her third child six weeks before the dinner, and former Vice President, Rhian Hooton (Irwin Mitchell) also welcomed her first child this year. The President also thanked the dinner sponsors ReviewSolicitors, programme advertisers and event organiser, CDLS Council member and assistant honorary secretary, Emma Waddingham, for their support.
The annual dinner and awards were closed with entertainment provided by guest speaker Jamie Baulch, and dancing into the early hours.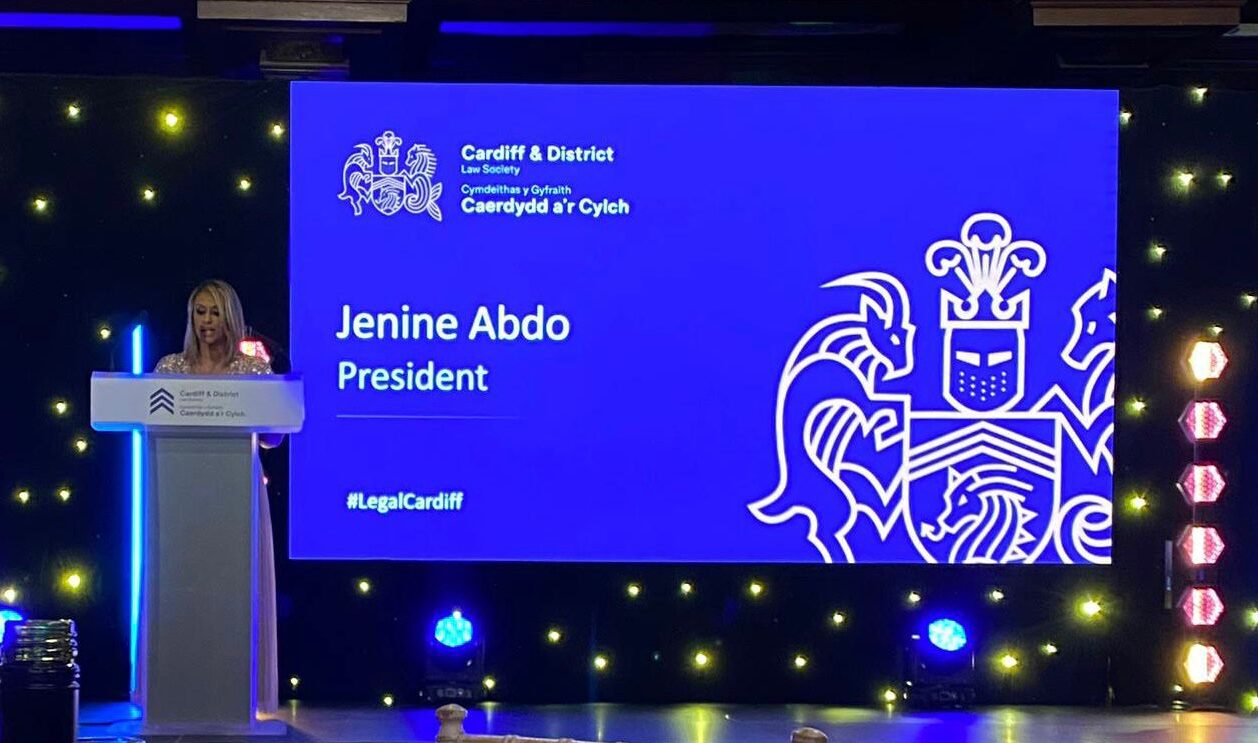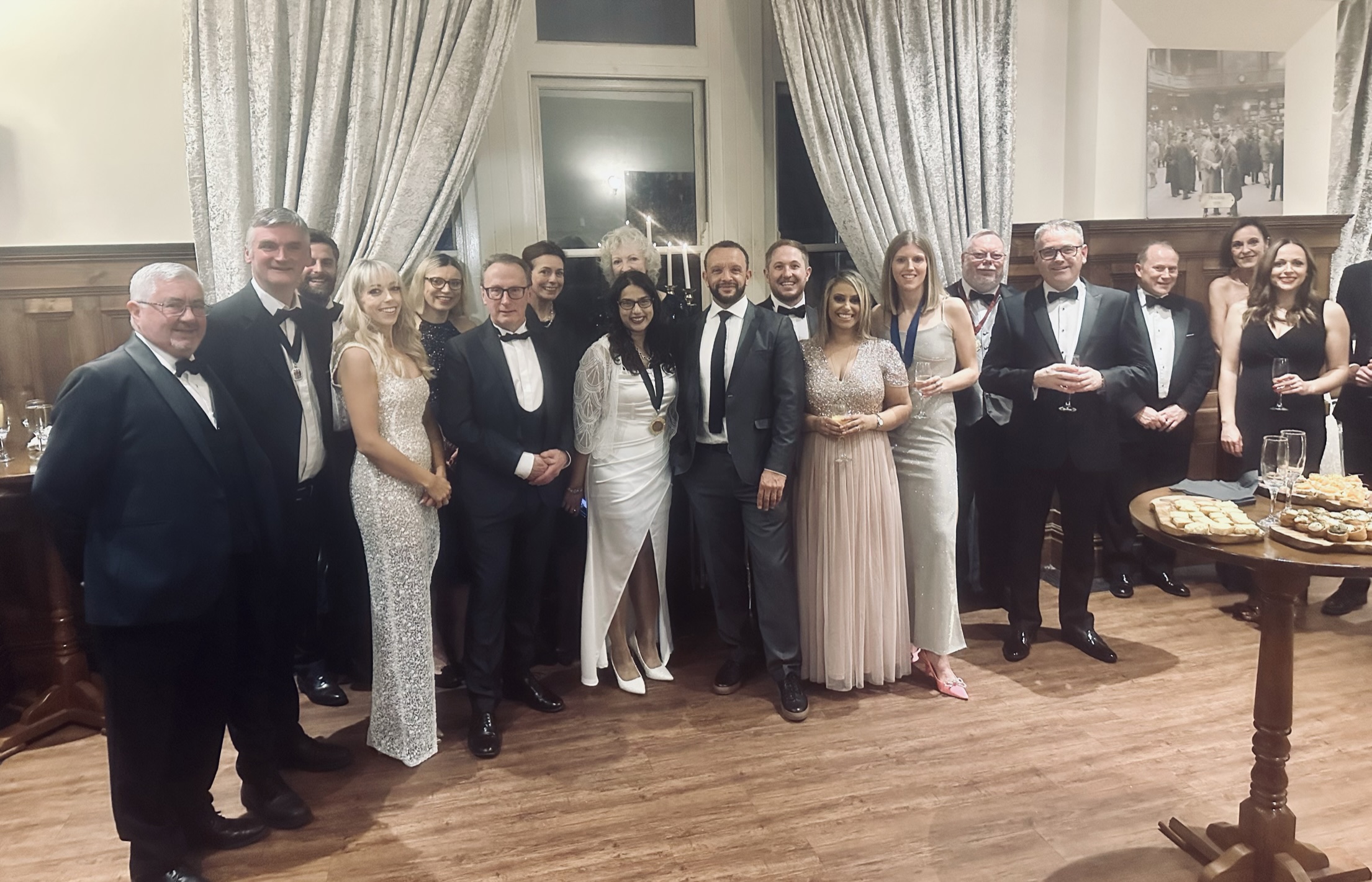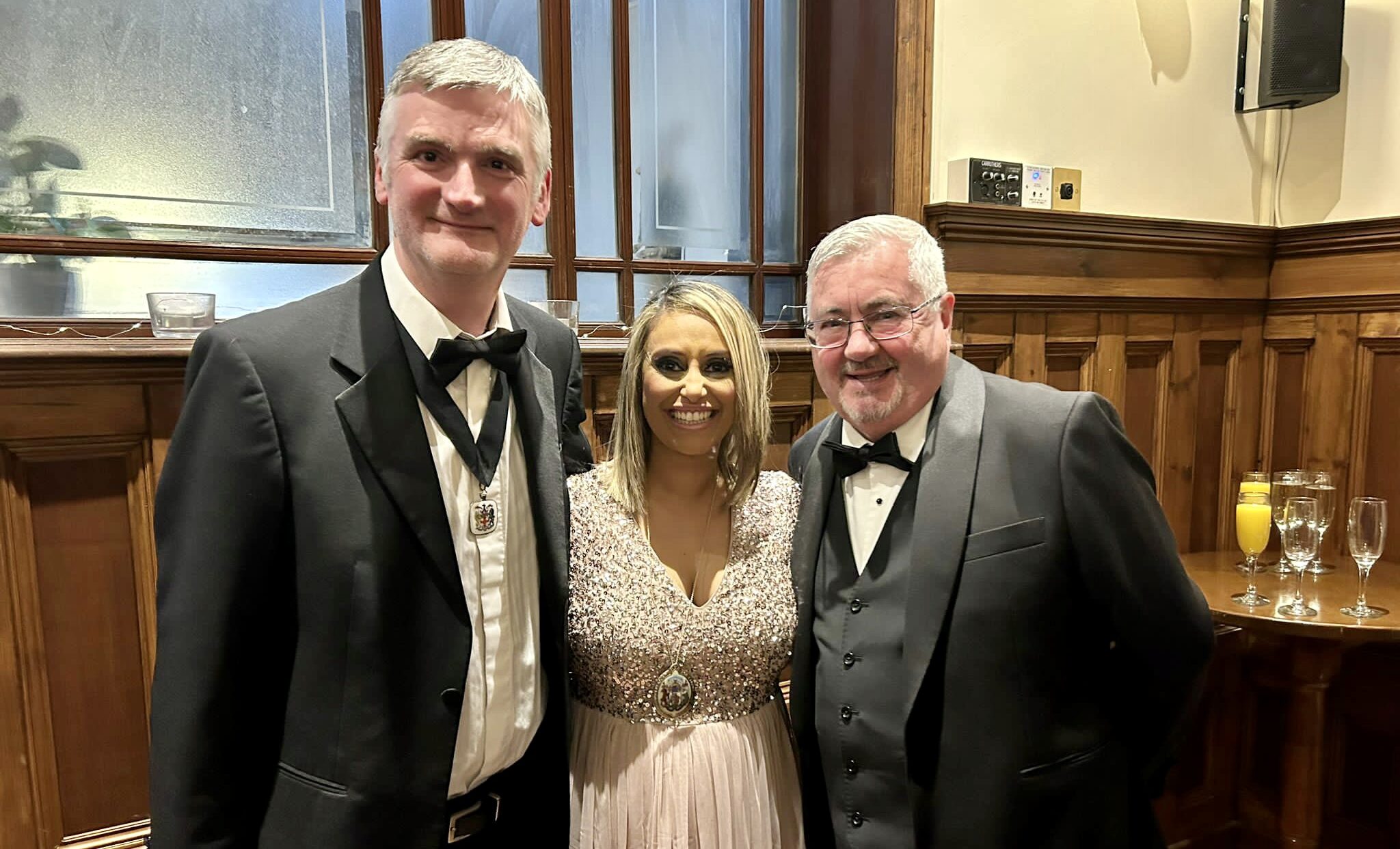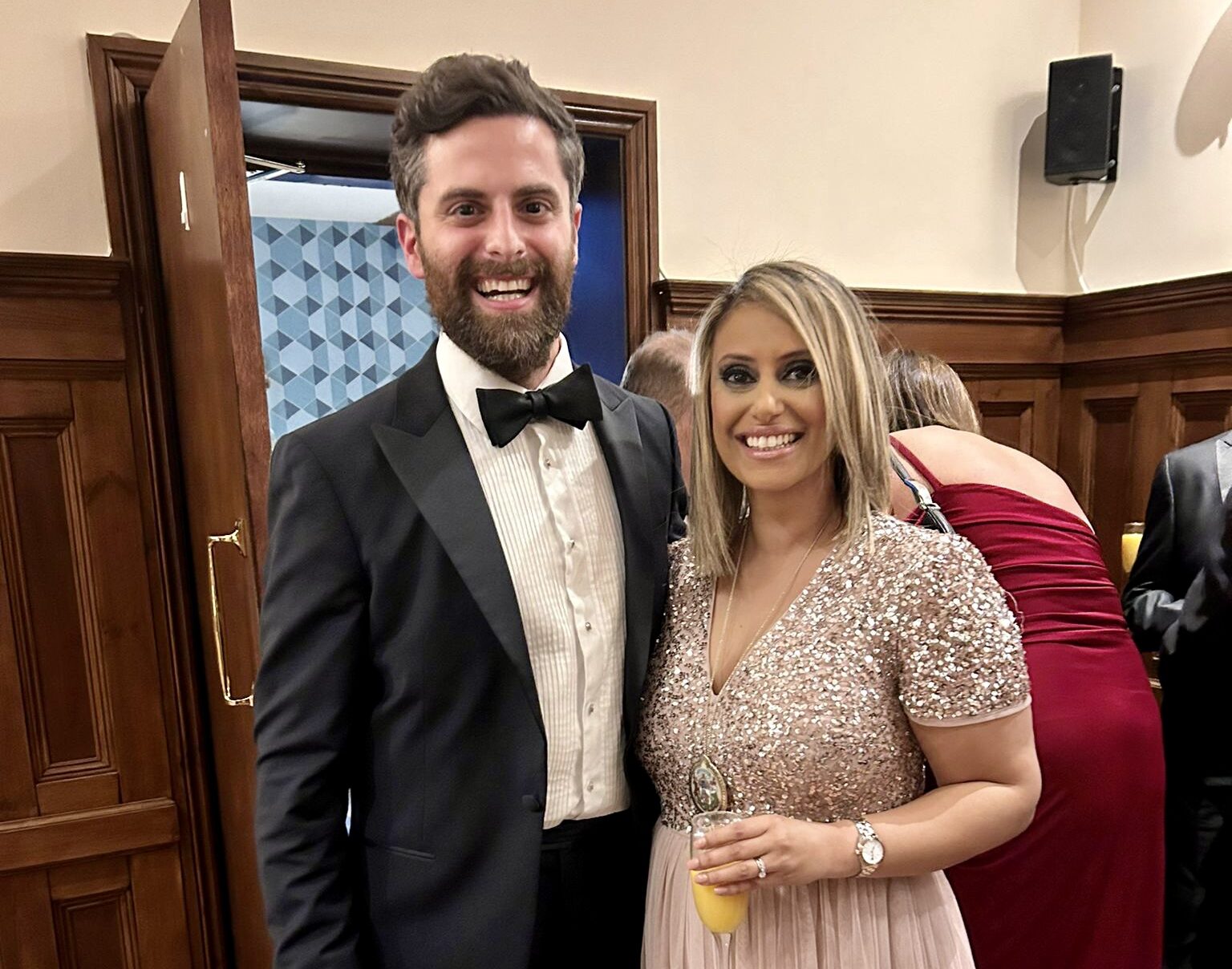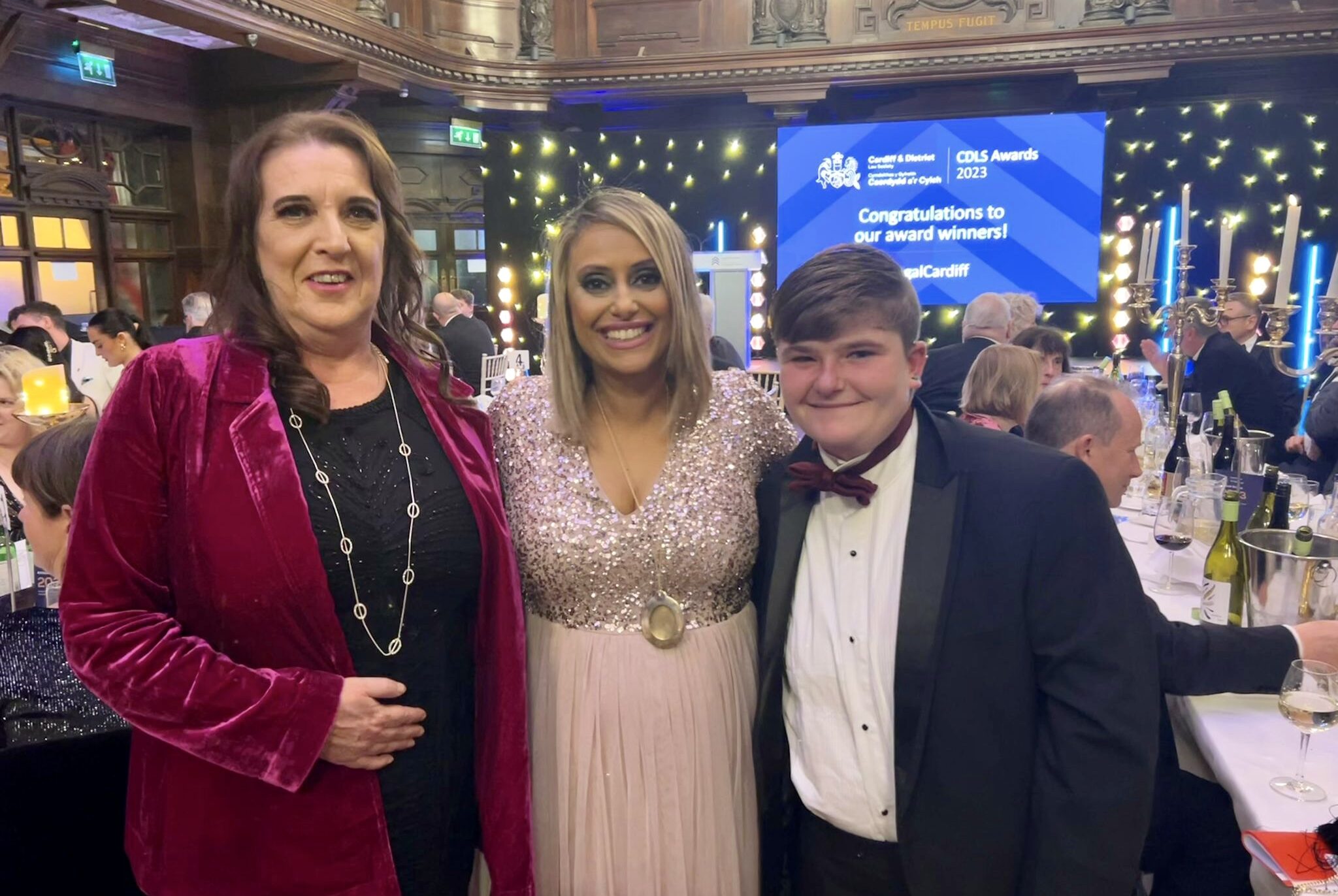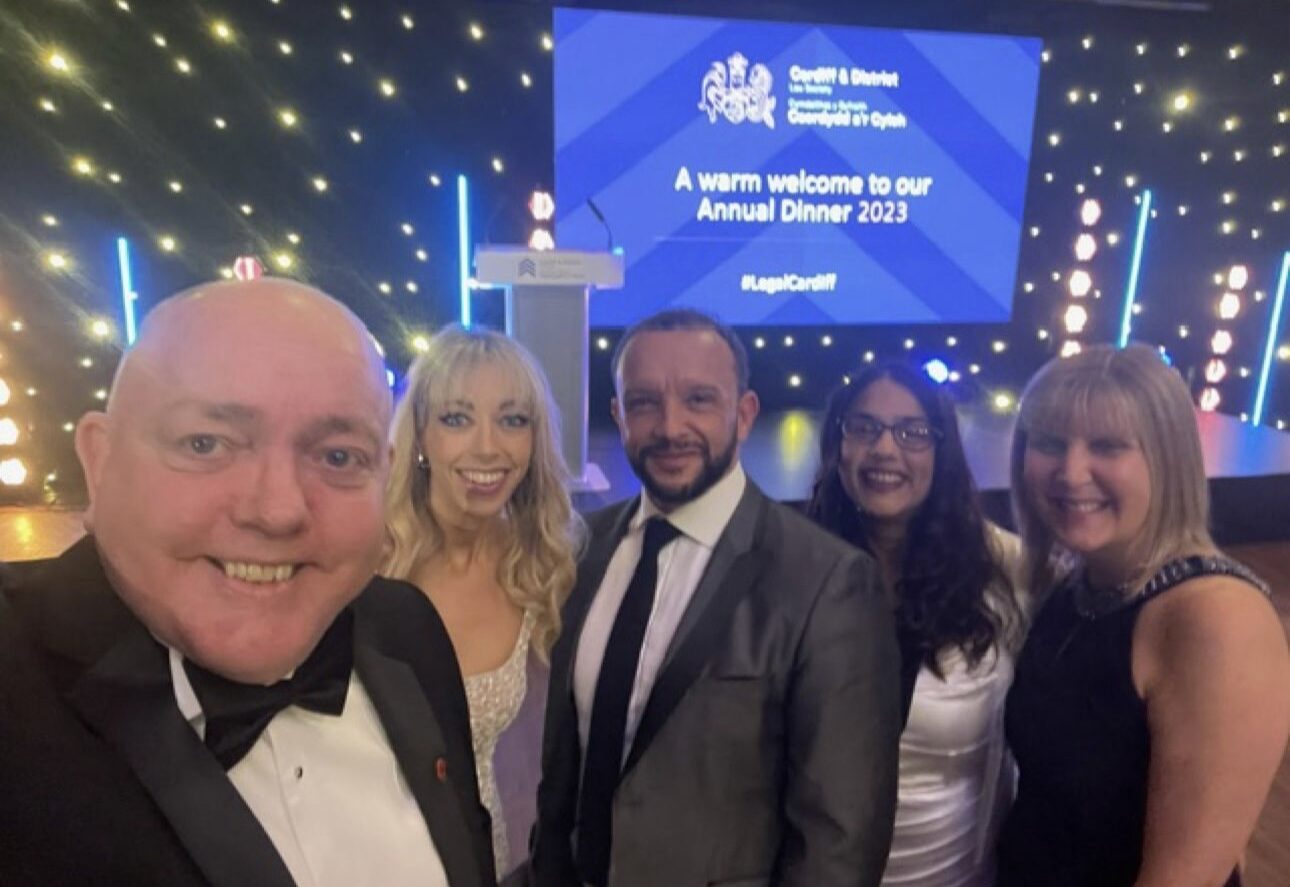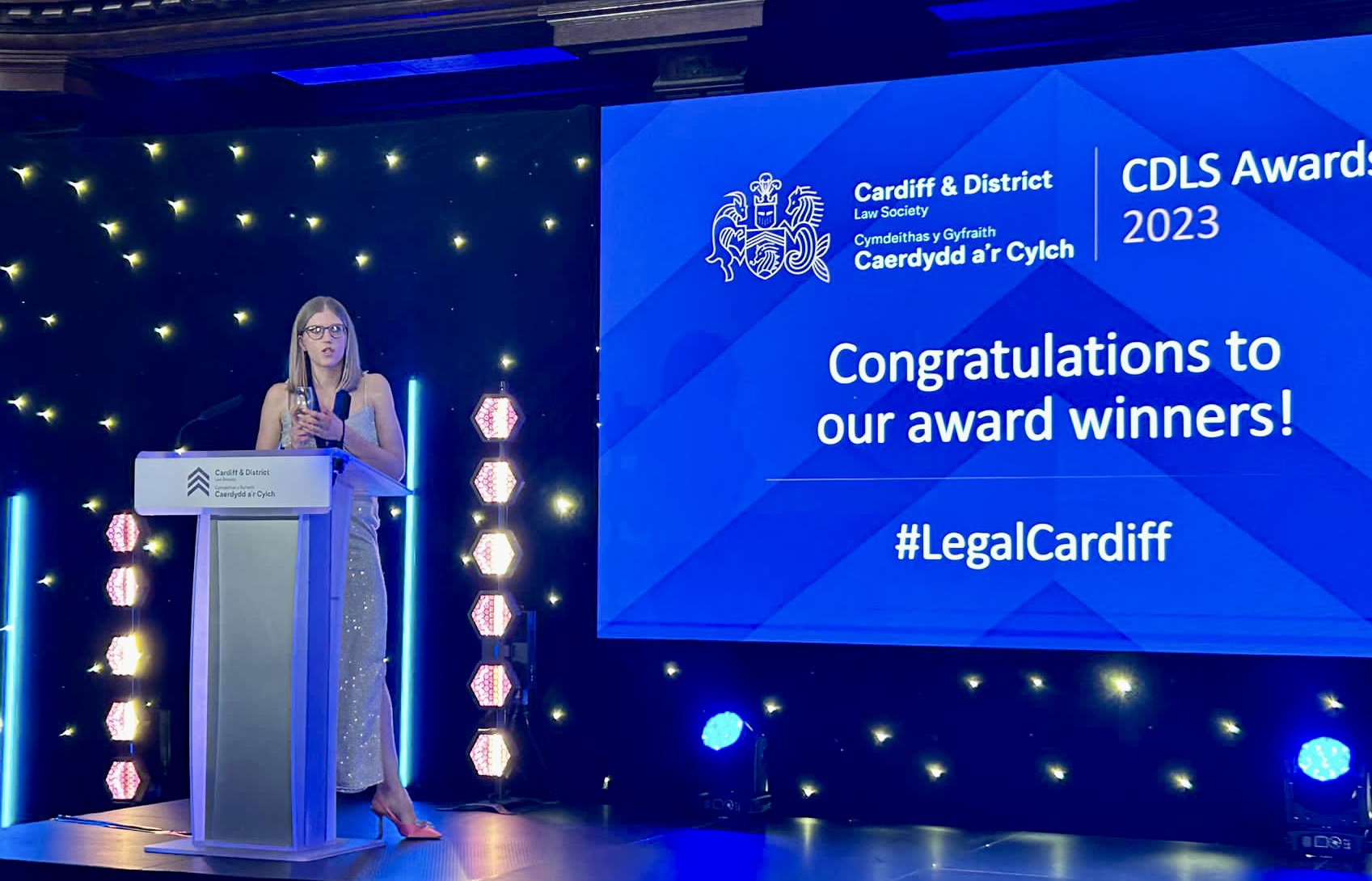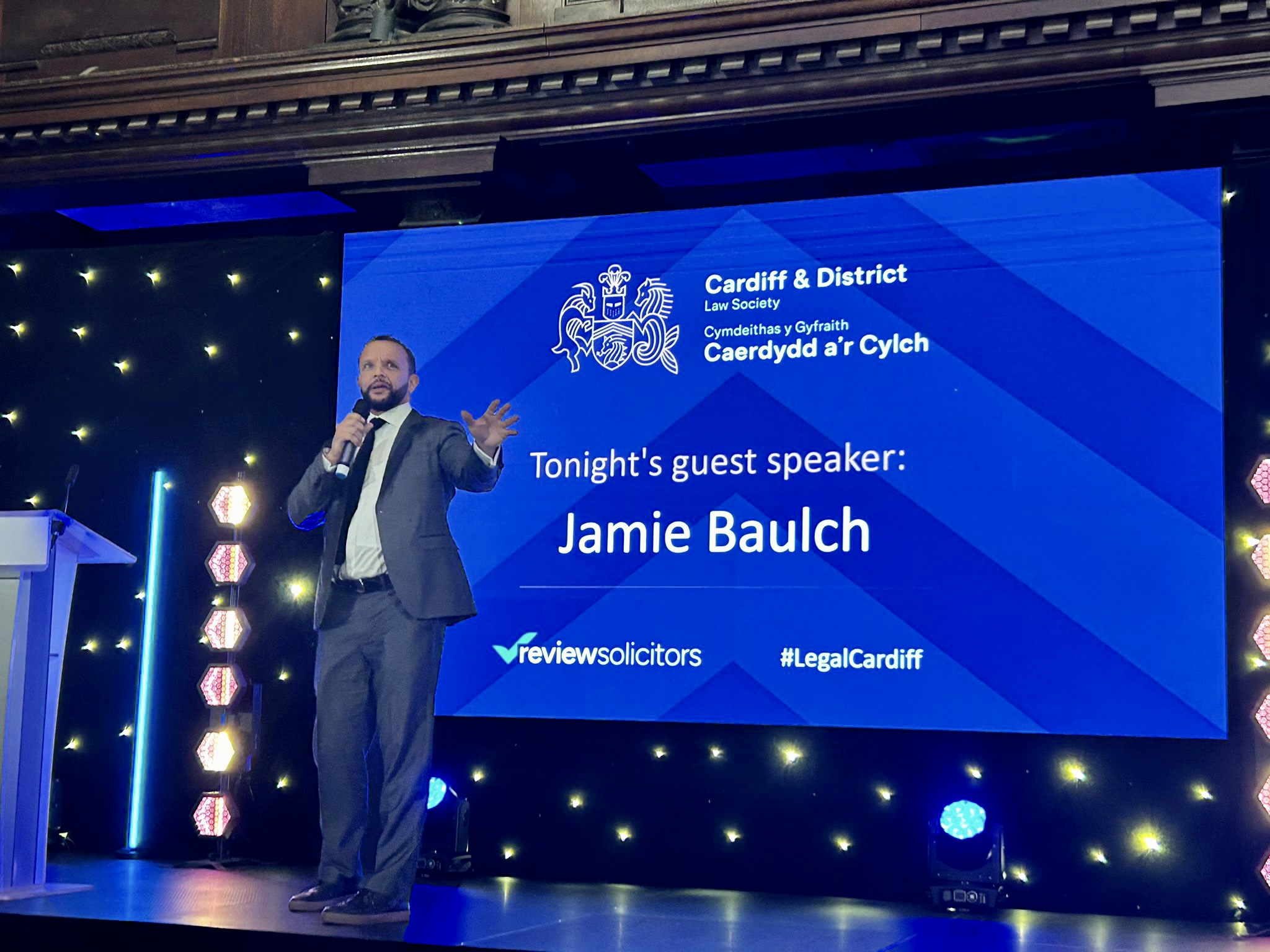 Cardiff & District Law Society Annual General Meeting
Members and non-members are invited to join CDLS at its AGM, hosted at the Law Society Wales office in Cardiff on Thursday 23 November 2023, from 5:30pm. The AGM offers a chance to network, and to witness the next CDLS Council election – with the handover to the new President (Clare Good), and Vice-President (Trish D'Souza, Blake Morgan), and announcement of the next Junior Vice President and wider council  secretaries and officers.
Click here for details and to book.