Lloyd Davies, Managing Director of Convey Law and Director of the Conveyancing Association, has undertaken the pilgrimage along the 177 miles of Offa's Dyke, starting in Prestatyn and walking to Chepstow, to raise funds for charity in memory of his son Max.
The first stage of Lloyd's walk has been completed – over 100 miles – with the original fundraising target exceeded. Nearly £20k has now been raised.
Lloyd and the team hope to complete the final stage of the walk in September when they hope to reach at least 25k in total which is the total amount the school they are fundraising for need to complete and run their wellbeing centre.
The fundraising target has been extended to the total amount (£25k) needed by St Alban's High School in Pontypool to finish its wellbeing sanctuary and gym. The walkers hope to reach that target after the second stage of their walk.
Davies, said:
"On July 25th  I set off on a very personal fundraising challenge for the Mindstep Foundation which we established in memory of our beautiful son Maxwell, who took his own life at just 22 years of age after suffering from clinical depression.

"Three years on and eight very good friends and I are on a pilgrimage to trek the 177 miles of Offa's Dyke national trail, walking the length of Wales from Prestatyn to Chepstow – to raise awareness and funds for a very necessary cause.
The Mindstep Foundation will donate all funds raised to a wellbeing centre at St Alban's Catholic School in Pontypool, South Wales, where Max was a volunteer teacher during the summer term before he died."
Davies added:
"The school is desperate to establish its sanctuary intervention centre and gymnasium. The Sanctuary will provide support for hundreds of young pupils, many of whom face daily challenges that many of us would find it difficult to comprehend.
"When we lost Max, we started to look at the statistics: over 80 young men under 27 years of take their own lives every week in England and Wales – 11 every day – over 4000 a year. We were driven to try and make a difference.

"We established the Mindstep Foundation to help raise awareness and we are working with the Suicide Research Prevention Faculty at University of Glasgow to help us find a solution and to ensure that no one suffers the loss and pain that we have with Max's passing.
"I am looking forward to the trek with an amazing bunch of guys. It will be a very tough challenge but we will prevail together and enjoy the challenge.
"Max will be with us, on our right shoulders, every step of the way…..laughing, joking , spurring us on….. We aim to walk 20 plus miles a day and get to Hay on Wye at the end of the first week and then undertake the rest of the walk as time allows over the summer."
To donate, please visit the Mindstep Trekkers page here.
You can follow their journey on their blog, published at the end of each trekking day, here.
We have also kindly been given permission to publish a blog by Lloyd Davies, about the challenge, his son and his experiences, below.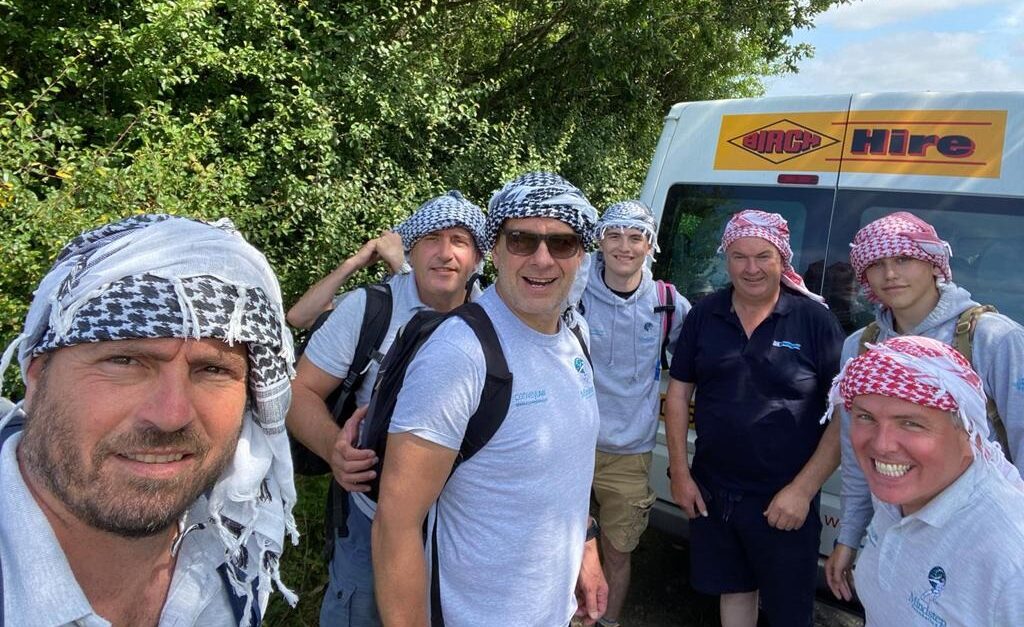 It will never happen to me…
As our feet recover slowly from over 100 miles trekking in the mountains and valleys of the England-Wales border, we cannot thank everyone enough for their support of the 'Mindstep Trekkers' in our #OffasDyke pilgrimage.
As we approach three years without Maxwell it still feels like living through the worst possible nightmare.
Losing a child to suicide is unimaginably difficult and I thank my wonderful family and friends for their love, support and positivity as we learn to take one day at a time without our beautiful, witty, fun-loving Max.
We question what happened every day…why Max…why us…this should never have happened. Max loved life with a passion until depression took hold so very unexpectedly and out of character.
Max wasn't on his own in what he did on the 9th August 2018, ten other young men between the age of 20 and 27 took their own lives that day. Since Max's passing over 12,000 young men have passed away to suicide – in England and Wales alone!
This worldwide pandemic that takes the lives of so many wonderful young men must be addressed.
The work of the Mindstep Foundation in conjunction with the Suicide Prevention Department at the University of Glasgow is vital to finding a cure and our work continues in earnest.
Making an immediate impact is also so very important and raising a large part of the funds required to establish the mental health and wellbeing Sanctuary at St Alban's High School in Pontypool, South Wales, will help literally hundreds of disadvantaged children overnight.
Max worked as a volunteer teacher at St Alban's in the summer before he died with some of their most vulnerable pupils.
We still have a little bit of trekking to do to complete the 177 mile challenge…and we still have a very long road to travel to help find the answers for our young men; and we still have some fundraising to do!
We raised nearly £20,000 of the £25,000 required to fund the Sanctuary and all ten of our wonderful Mindstep Trekkers have been inspired on our journey by the well-wishers and by the financial support from those generous souls who recognise how vital our Mindstep journey is together – thank you all for your amazing support.
To donate, please visit the Mindstep Trekkers page here.
To donate offline by bank transfer please contact info@mindstepfoundation.com for details.